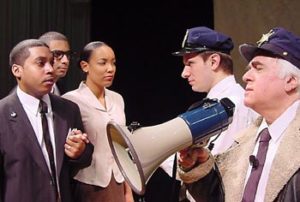 By Jon Goldstein with the writings of Dr. Martin Luther King, Jr.
Join Dr. Martin Luther King on The Road to Freedom. From his first encounter with racism to his immortal speech delivered on the steps of the Lincoln Memorial, Dr. King walks students through the experience of the civil rights movement.
Students make discoveries with Dr. King as he encounters the teachings of some of the great historical figures who fought for freedom before him: Henry David Thoreau, who introduced him to the concept of civil disobedience, and Mahatma Gandhi, who showed him that nonviolent resistance was the most powerful weapon in the fight for equality.
Key Educational Concepts
Character Education
Conflict Resolution
American History
Diversity Awareness
Tolerance
Black History
What People Are Saying
"A very comprehensive and informative show performed by talented actors"
-3rd grade teacher
"A great entertaining timeline of Martin's life…one of the best performances in school (and out) that I have ever seen."
-4th grade teacher
"Informative, compelling and very worthwhile…talented actors made the story come to life…(Road to Freedom) retells history and illustrates the importance and relevance to our society today."
-3rd grade teacher