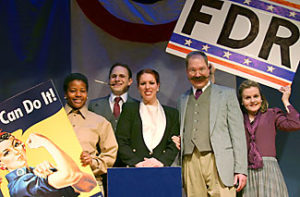 by Dana Leslie Goldstein
Eleanor Roosevelt had a view of American History that few can rival. In this original, interactive production, Eleanor shares her amazing journey: from her sheltered childhood at the turn of the century, to her volunteer work, on to her support of women's suffrage, to her life as a First Lady through depression and war, and then beyond that, to her active role in the blossoming civil rights movement and her work at the United Nations, where she was figural in the creation of the Universal Declaration of Human Rights. Eleanor Roosevelt wasn't just a First Lady, she was First Lady of the World.
First Lady introduces audiences to some of the most influential women of the 20th century. Historical music and audience interaction bring students closer to the people and events that helped transform the role of women in the United States. First Lady is available in March and is an ideal way to celebrate Women's History Month.
Key Educational Concepts
Character Education
American History
Self-Esteem
Civics
Women's History
American Government
Music
What People Are Saying
"You have developed the most exciting, educational, lucid and professional piece. The versatility of the actors, the storyline and the script make your work real genius."
-4th Grade Teacher
"There are many assemblies and performances my students attend, but this was one of the few that I was glad to have attended with them. Well done!"
-6th Grade Teacher